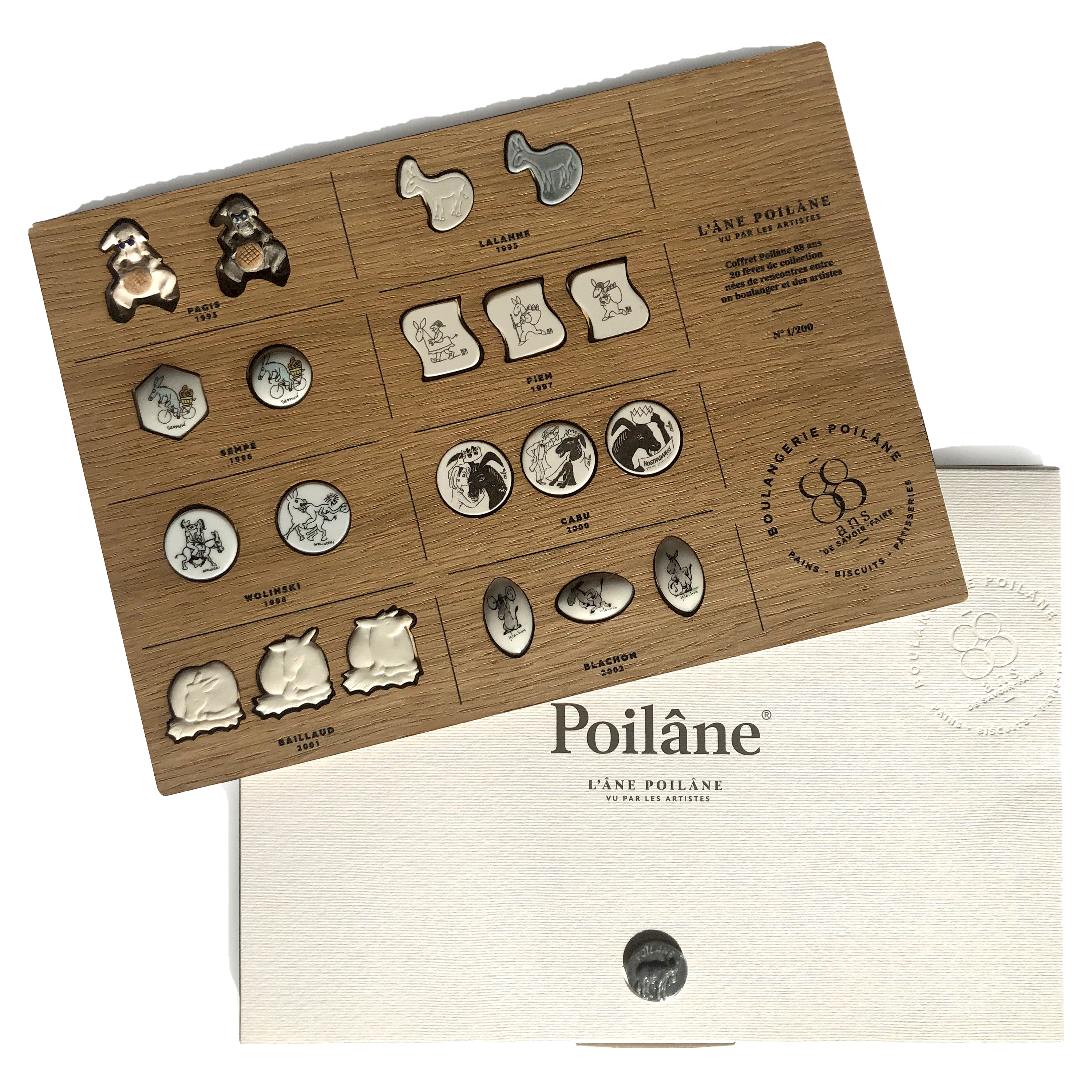 COLLECTOR BOX « L'âne Poilâne vu par les Artistes »
Regular price
200,00 EUR€
Regular price
Sale price
200,00 EUR€
Unit price
per
---
Tax included.
---
Product availability
click & collect
in our 6 stores in Paris and London
France and International delivery
Standard or Express
Description
THE BOX OF FÈVES (BEANS) On the occasion of the year 2020, which marks its 88th anniversary at 8 rue du Cherche-Midi, Poilâne® has opened its archives to offer loyal collectors and lovers of its "art de vivre", an original collector's box "L'âne Poilâne vu par les Artistes", bringing together 20 fèves from the Poilâne® collections. ORIGINAL WORK COMPOSED OF : 2 fèves year 1993 - creation PAGIS 2 fèves year 1995 - sculpture LALANNE 2 fèves year 1996 - drawing SEMPÉ 3 fèves year 1997 - drawing PIEM 2 fèves year 1998 - drawing WOLINSKI 3 fèves year 2000 - drawing CABU 3 fèves year 2001 - sculpture C. BAILLAUD 3 fèves year 2002 - drawing BLACHON Created in a limited edition of 200 pieces, the box " L' âne Poilâne vu par les Artistes " gathers in a new way the passion of women and men for art and for the Poilâne® universe, of which the donkey is a proud symbol. Tray of 6mm oak veneer laminated on 2mm wood board. Format: 256x180x8mm. Laser cut + 1 color printing. Case in Aquarello Bianco 390g paper. Silk-screen printing 1 color + embossing of the 88 years stamp. Front insert of a Moyet-Perrin fève, 1985, "âne debout". Made 100% in France, assembled by hand. Limited and numbered edition of 200 pieces. Box accompanied by its Certificate of Authenticity.